In Sweden, Lake Vänern is the largest in the country in terms of area (5648 km²). Located in the southern part of the country, it is also the third European lake after Ladoga and Onega in Russia. On the shore of this lake, over time, many small houses were built, and one of them especially attracted our attention. This is a one of a kind self-sufficient frame house. If this A-frame house is so original, it is not so much because of its construction, which remains true to the characteristics of this type of house, but the fact that it is made in the form of a greenhouse, which makes it self-sufficient and makes it a very futuristic house. Opening.
Frame house Venern
As we have already explained to you, the configuration of this A-frame house conforms to the norms of this type of architecture… But what makes it special is that it was designed with glass structure instead of wood as is usually the case. In fact, solar panels are built into the roof slope, which allows provided with electricity, heating and hot water. The owners have set up a vegetable garden and a small indoor orchard, which also allows them to provide themselves with food, again thanks to this greenhouse house.
"Unique in the world, Villa Nature is for sale on the shores of Lake Vänern. The home of the future and the next generation of self-sustaining natural homes. This climate-optimized villa has its own fully autonomous heating, electricity, water and nutrient recycling system. Heating from built-in solar panels and private Mediterranean garden. Live in one of the most sustainable and environmentally friendly homes in the world." ERA
This frame house is not a huge house as it offers area 124 m², an ordinary family home, but it takes on a different meaning with this greenhouse design. Remember that it is not heated or insulated, but the greenhouse protects it from cold, wind and rain… Moreover, glass walls allow happy owners stunning view of a beautiful lake at all times of the year.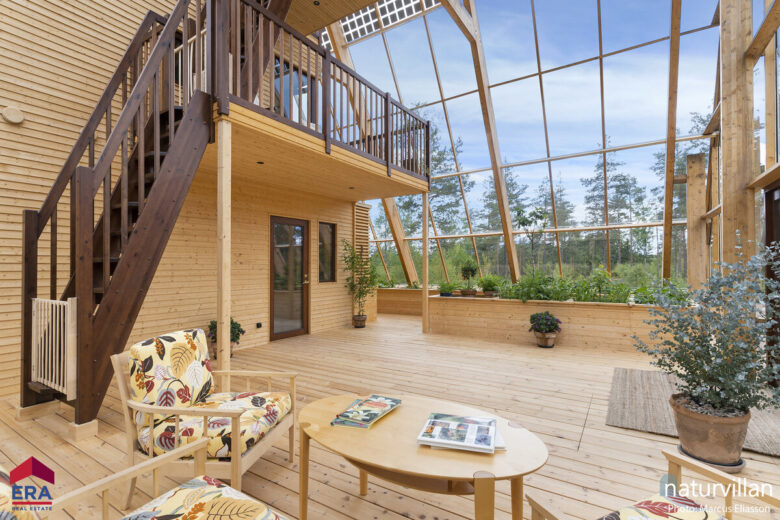 "Here you can enjoy longer summers with local Mediterranean plants, be it fruits or flowers. This is thanks to the unique design of Villa Nature. The house is located overlooking the lake and the natural landscape with a beautiful rocky slope. Close to the beautiful sandy beach of Lake Vänern in Sikhalla, which is a popular swimming beach with…